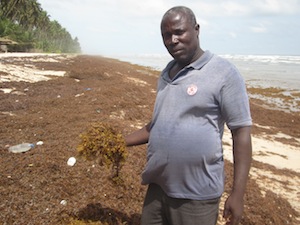 Because of our presence in Ghana in the past years, we noticed the influx of seaweed along the Ghanaian coastline, especially west of Accra. This seaweed (Sargassum sp.) causes many problems for local fishermen; their nets are often 3/4 filled up with seaweed (outcome of Goodget's own research along the coastline). Also, the seaweed is flushed on the shore and causes pollution and unpleasant smell. It is a nuisance and a big problem for local fishermen who see their income drop because there is less fish to catch, but ever more seaweed that has no value for them.
Blue Harvest Ghana wants to add value to seaweed by harvesting, processing, and selling it with the help of the local fishing communities. This not only results in more income for local communities, but also in cleaner beaches, improved fishing conditions and cleaner water.
We are now applying for funding and looking for partners, and hope to start producing important commodities like biofertilizer and animal feed in Ghana before the end of the year.